Advisor Resources
---
2017-2018 eCYBERMISSION Mini-Grants!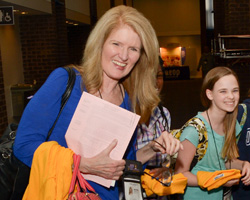 The eCYBERMISSION Mini-Grant is intended to support teachers/program leaders as they implement eCYBERMISSION with their teams. Educators (formal and informal) of students in grades 6-9 are encouraged to apply. Special consideration is given to Title 1 schools and to those with underserved/ under-represented populations.
Mini-Grant applications must be received by Wednesday, October 11, 2017 online at http://www.cvent.com/d/g5qmwj
Mini-Grant awardees will be notified by October 18, 2017 if they have received the Mini-Grant for the 2017-2018 school year. In order to secure funding, all Team Advisors and students must be registered for the competition/on complete teams by November 15, 2017. After eCYBERMISSION registration closes, the initial grant payment will be sent to the school/district/ organization. The targeted first payment is December 15, 2017.
eCYBERMISSION Mini-Grant Overview (.pdf)
NSTA administers the eCYBERMISSION competition for the U.S. Army Educational Outreach Program as part of the Battelle Consortium formed by the AEOP cooperative agreement awarded to Battelle Memorial Institute.
---
Website Tutorial
Click here for the eCYBERMISSION website tutorial!
---
---
---
---
---
---
---
How eCYBERMISSION Meets Your State's Standards: