Browser Requirements
eCYBERMISSION is supported on a PC platform using Microsoft Internet Explorer.
Printing on eCYBERMISSION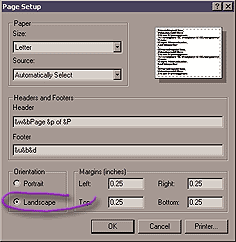 It is strongly advised that you adjust your printer settings to landscape mode to ensure the best quality image. The following directions will assist you to change how a Web page looks when it prints
On the File menu, click Page Setup.
Under Orientation, click Landscape to specify whether you want the page printed horizontally.
Click "OK."