Join Our CyberGuide Live Chats!
---
CyberGuide Live Chats are online chats with STEM professionals and eCYBERMISSION staff. Login and ask questions about eCYBERMISSION and completing your Mission Folder. These chats are your opportunity to discuss your project with professionals who will share their expertise and lend their support.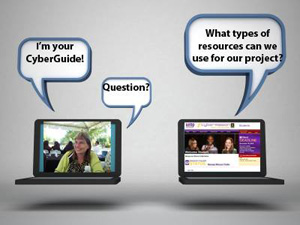 Live Chats hosted twice a month!
Get answers to your questions and tips about how to make your Mission Folder even better!
CyberGuides and former Virtual Judges will share insider tips and offer support all the way until submission!
Team Advisors, individual team members, and/or the entire team may participate in these sessions. Below, you will find the CyberGuide Live Chat schedule. Please use the link below to access the chat session at the designated time. You do not need a microphone to participate in the discussion, but if you have one, you may use it!
Join us for the next CyberGuide Live Chat November 15th at 6PM EST
The next chat will focus on Reviewing the Rubric: Review of the judging rubric. Explanation about how teams can use it to enhance their Mission Folder.
Click here to enter Blackboard Collaborate for the CyberGuide Chat!
* When you sign on to Blackboard Collaborate for the CyberGuide Live Chat you will be asked to enter a name. Please use your first and last initial and your team name. ex: ecTeamName
Schedule: 2017-2018
| | | |
| --- | --- | --- |
| Date | Time (ET) | Theme |
| 15-Nov | 6:00 PM | Reviewing the Rubric - Review of the judging rubric. Explanation about how teams can use it to enhance their Mission Folder. |
| 29-Nov | 7:00 PM | Tools for Everyone - Where to find tools on the website and how to use them. |
| 13-Dec | 6:00 PM | IRBs, Survey Approvals, and DQ's, OH MY! - A review of best practices including IRB's and Survey Approval Forms. A discussion about eCM requirements and what to do if your team needs these documents. |
| 10-Jan | 7:00 PM | From Behind to Finish Line - Submission is only a few weeks away. But, it's not too late to get started after the winter break. Find out how to complete a 4 week Mission Folder! |
| 24-Jan | 6:00 PM | Ready, Set, Submit! - Prepping teams to submit and directing them to CyberGuides for additional help. |
| 7-Feb | 7:00 PM | Polishing for Points - A thorough review of the judging rubric for "easy points" (i.e. good spelling and grammar). |
| 15-Feb | 6:00 PM | Early Is On Time - Making sure team's finish BEFORE the submission deadline. A discussion about how to check attachments and review as a team. |
| 21-Feb | 7:00 PM | Last Call - Time to ask any last minute questions. Submission is February 28, 2018. |