Choose your volunteer registration: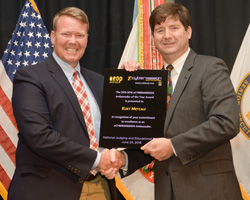 This year marks the 15th anniversary of our competition and we hope you will be a part of it. We are looking for 3,000 volunteers this year to serve as Virtual Judges and Student Virtual Judges, CyberGuides and Ambassadors. eCYBERMISSION is a fun and meaningful way to volunteer and encourage students across the country to explore STEM in their community. All of our volunteers receive support from eCYBERMISSION staff, monthly newsletters and training resources throughout the year. All volunteers receive a letter of appreciation and certificate from eCYBERMISSION. Volunteers who contribute 100 hours or more receive the President's Volunteer Service Award.
Register as a Virtual Judge is now closed.

Register as a Student Virtual Judge is now closed.

Register as a CyberGuide is now closed.

Ambassador: Promote eCYBERMISSION to teachers, parents, schools, and any other interested student organizations across the nation. Encourage other individuals to become eCYBERMISSION volunteers.